What is my Promo Unit?
The Promo Unit is an overlay that shows to your Jango listeners every time you receive a targeted play. This unit can be customized from the Campaign Settings menu Promo Unit page.

The Standard Promo Unit is focused on getting listeners to give you a thumbs up and become your fan, but you can also choose from these different Promo Units to meet your individual goals:

Most listeners have a Facebook account, and they spend a lot of time there! This unit connects your fans to the most popular social destination on the web so you can keep them engaged with your music, new releases & shows. Your listeners will be able to Like your Facebook page directly from the promo unit. You must connect a Facebook page- not a personal profile - to your Radio Airplay account. You can add your Facebook page link from the Connect a Facebook Page link on the right of the Promo unit.

This unit is specifically designed to promote your upcoming shows. This keeps listeners informed of when/where your next shows are. You must add your upcoming shows from the List your gigs link on the right of the Upcoming Gigs unit section. You can optimize it by targeting your plays to the area(s) where you're performing. If you use premium targeting, you can make sure each spin is directed to a potential audience member.

This unit gives your listeners a fast, easy way to watch your latest Youtube video. To use this unit, make sure that you add your video from the Add or Select the Video link on the right hand side of the Video Feature unit.

This unit shows your listeners where they can purchase your music by putting your sales outlets front and center. By simply clicking on the smart logos, it will take your listeners to your storefront. You can connect your unit to iTunes, Amazon, CDBaby and Tunecore. If you use another distributor or sell music directly, you can add a custom link as well. To use this unit, make sure to add your store link(s) from the Add links to iTunes, Amazon, CDBaby, Tunecore or your own custom store link on the right side of the Store Promo unit.

This option gives you total visual control of your promo unit- You choose the flyer and provide a destination link to drive listeners to your web page, Facebook page etc. To use this unit you must add a flyer image and destination link (URL). You can add this information on the right of the Custom Flyer unit from the Add an image & URL link. Keep in mind this flyer will significantly decrease your fan conversion ratio since the voting mechanism (thumbs up/down) is removed.

Every unit with the exception of the Custom Flyer Unit, allows you to add a Custom Message for your listeners to see and click on. This message can be added/edited from the Artist Content menu, Info & Links page from your artist dashboard. Scroll down to the Custom Message section to add your message and custom message URL. The custom message URL can be any site that you want to direct your listeners to when they click on the message (artist website, Facebook page, etc). These units will also show icons to your Social & Web and Store links that you choose to add in the Artist Content menu, Info & Links page.

Once you choose a Promo Unit, make sure you click on the Use This Promo Unit button on the right of the chosen unit to save your selection. You can preview your unit to see what it looks like to your listeners at anytime from the Preview link on the top of the page next to where it says Current Promo Unit.

Here is a preview example of a band using the Facebook Likes Promo Unit.
Keep in mind that the text "Your Song Name" in the unit preview is simply a placeholder. The actual name of your song will appear on the unit when the song is played live.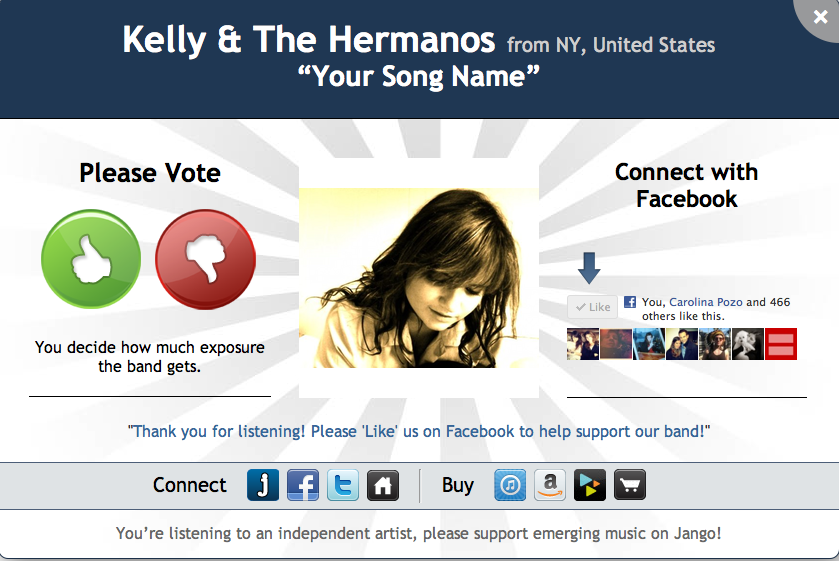 These Promo Unit options are free with all packages, so you may want to experiment to find out which one works best for you!

Your artist Promo Unit appears to your listeners when a paid play occurs. A paid play is a play that uses a play credit. There are six different Promo Units available and they're all geared to fit your current campaign needs.

When you click View Profile from your Airplay Dashboard, or when you go to Jango.com and search for your artist name, the plays that occur are NOT considered Paid Plays. Meaning they do not use play credits. Non-paid plays are plays that are requested by the listener on their own, and not a play that is actively promoted and automatically placed in a user station by us here at Radio Airplay. Your Promo Unit does NOT appear when a non-paid play occurs.

Please note that at this time we have not integrated all the different promo unit displays with the Jango Radio app. When your music is presented to a mobile listener we are currently only displaying the thumbs up/down overlay along with a voice over that states "Next up, an independent artist who would love to hear from you. Thanks for supporting independent music on Jango." The listener will become your fan when they click thumbs up and then immediately asked if they wish to share their email address with you. We are working on more Promo Unit integrations for the mobile app and will update you on those features soon!